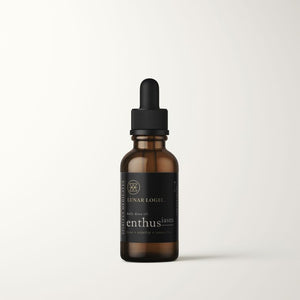 ENTHUSIASM / Daily Dose Drops (Herbal Tincture)
Regular price
$28.00
$0.00
Unit price
per
A raw Cacao-based formulation enhanced with brain-boosting medicinal Mushrooms, elevating superherbs, nootropics, and adaptogens to liberate the mind of old ways of thinking, awaken the spirit, and invigorate the body.
A Daily Dose for Curious Minds
Medicinal Mushrooms for mental clarity & focus
Superherbs for energy & stamina
Adaptogens for immune & stress support
Nootropics for wakefulness & brain function
Lunar Logic's ENTHUSIASM blend is made from mushroom fruiting body extracts for maximum health benefits. This compilation of superherbs and medicinal mushrooms contains powerful energetics and ancient brain tonics that have been used across many healing traditions for millennia.
DAILY DOSE
1-3 dropperfuls daily.
ARTISAN FORMULA
Raw Cacao, Maca Root, Lion's Mane Mushroom, Cordyceps Mushroom, Astragalus Root, Cayenne Pepper. Extracted in artesian well cane spirits, spring water, and organic vegetable glycerin.
---
Share this Product
---