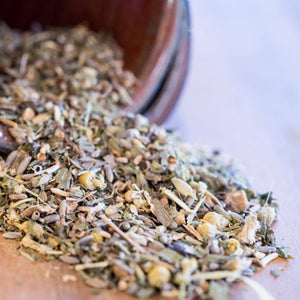 Calm Herbal Tea
Regular price
$5.00
$0.00
Unit price
per
Blender's Notes:
If you are finding yourself full of stress, anxiety, and racing thoughts that feel heavy and overwhelming, Calm is the blend you need. Containing herbs, called nervines, Calm has the ability to nourish and strengthen the nervous system thus eases symptoms like anxiety, irritability, agitation, depression and general stress.

The adaptogenic herbs inside our Calm blend helps your body be more resilient during long-term stress, while the calming herbs in this blend alleviates more in-the-moment instances of stress and anxiety. Calm is also a wonderful blend to drink before practicing meditation, due to it's ability to promote mental clarity while improving concentration.

Ingredients: *Ashwagandha Root, *Bacopa Leaf, *Chamomile Flower, *Hop Flower, *Lavender Flower, *Lemon Balm Leaf, *Motherwort, *Passionflower, *Skullcap, *St. John's Wort, *Valerian Root
*organic
Small: approximately .2 ounces/8 grams - makes about 4 cups of hot tea
Medium: approximately .6 ounces/17 grams - makes about 8 or 9 cups of hot tea
Large: approximately 1 ounce/27 grams - makes about 12 to 15 cups of hot tea
Extra Large: approximately 2

 

ounces/54+

 

grams - makes about 24

 

to

 

30

 

cups of hot tea
Vendor: Vana Tisanes in Cambria, California, USA
---
Share this Product
---
Customer Reviews
08/24/2023
Luis F.

United States
Great Tea for the Mind and Focus
Now this tea really works, but I have to let the reader know up front that this is not, what I would consider to be, a great-tasting "fun" tea. This is a tea that gets the job done, clears the mind, and dramatically increases focus. However, the tea is very earthy and does not please the pallet. I guess that the strong taste is from the Aschwaganda and Bacopa. Despite the taste, I go to this tea whenever my mind is foggy or if I find it difficult to get on task. Within a few sips, I find myself focused and ready to take on my most difficult challenges of the day. Highly recommend this tea to anyonw with ADHD, anxiety, etc.
08/25/2023
Leaf and Petal
We're so glad that you have found this tea to be helpful for you! We like to recommend to those who find the herbal teas to be a bit earthy or unpalatable, to add something like mint or hibiscus to help distract the taste buds from the herbs that are doing their work. Petra (owner) likes to blend a minty green tea with some of the herbal teas that she doesn't care for the taste but needs their healing powers. :)