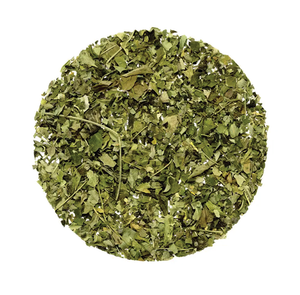 Moringa Leaf (sold by weight)
Regular price
$0.40
$0.00
Unit price
per
Moringa Leaf
Sold by weight
Price is for one gram (one ounce is a little over 28 grams)
Moringa leaves, which come from a plant known as the "miracle tree," is an exceptionally nutrient dense superfood that increases mental energy and clarity, and contains powerful antioxidants. With grassy and earthy notes, this herbal tea will give you an energy boost without the caffeine.
Moringa has been known to fight inflammation, lower blood sugar levels, lower cholesterol, protect the liver, protect against arsenic toxicity, improve lactation, and more. It is rich in vitamins and minerals, rich in amino acids, rich in antioxidants, and an antiseptic. 
Pregnant and breastfeeding women should consult their doctors before including moringa into their diets. 
People on blood thinners, thyroid medicines, or diabetes medications should consult their doctor before including moringa into their diets. 
Moringa is a naturally caffeine-free herbal tisane
Ingredients:
Organic moringa (moringa oleifera)
Directions:
Steep 1 teaspoon in 8 ounces of water (208˚ - 212˚) for 5 minutes to make moringa tea. Add honey or lemon for taste, if desired. Brew with turmeric, ginger, and/or cinnamon for added anti-inflammatory properties.
Storage:
Keep in a cool, dark, dry place
Sourced from: Heavenly Tea Leaves
Grown in: Tamil Nadu, India
---
Share this Product
---